Milwaukee is the largest city in the state of Wisconsin by population, and it's also the fifth-largest city in the midwest. As you can imagine, there are endless things to see and do in Milwaukee to keep you busy.
Located near Lake Michigan, there are several fun water activities you can take part in. Plus, Milwaukee has countless breweries, making it the perfect place to visit with friends!
But, there's more on offer than just nature and beer, the city is filled with many cultural and historical sites as well. Whether you visit with your kids or colleagues, there are fun things to do in Milwaukee for everyone.
I've lived in Milwaukee since I was two years old. Having attended elementary school all the way through college in the city, I'm familiar with the area — it's a great place with a lot to offer.
Whether you're just spending a couple of days or two weeks, you won't run out of things to do in this big city.
Here is a complete list of the 15 best things to do in Milwaukee, Wisconsin.
1. Visit the Mitchell Park Horticultural Conservatory
Situated on the Southside of Milwaukee, the Mitchell Park Horticultural Conservatory is the perfect place to go with your friends and family.
It's one of the most unique things to do in Milwaukee, as this type of architecture isn't found anywhere else.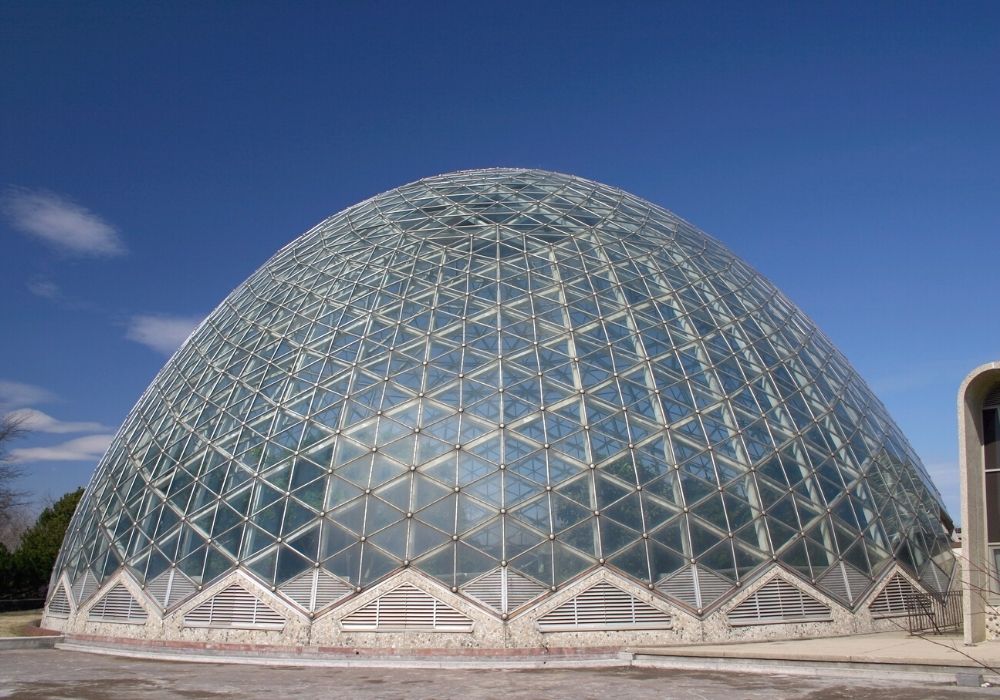 Constructed in 1959, the conservatory houses a variety of botanical life — it's filled with beautiful and eccentric flowers, trees, and shrubs.
The first dome accommodates an arid ecosystem from America and Africa, whereas the second contains vibrant tropical plants and orchids.
The last dome contains a wide and admirable garden railway, themed exhibits, and holds many cultural events throughout the year.
Whether you're looking for a fun activity to do during the winter or summer, this is a great place to visit, especially if you love nature and are looking for something relaxing to do.
Whether you go with your spouse, friends, or children, everyone will definitely fall in love with the conservatory. If you go on certain days, you might be able to get in for free too.
2. Spend A Day At Discovery World
The perfect way to spend the day with family is by visiting one of the most famous Milwaukee attractions —Discovery World.
The place is located on the shoreline of Lake Michigan and offers a number of interactive exhibits to keep you interested as you roam around the building.
It has all sorts of unique features. There is a "Dream Machine" that lets you explore the automation all around the building. You can meet robots and even make foam toys!
The clean Air Trek exhibit shows you how battery technology works in automobiles. The Distant Mirror exhibit allows you to discover how a mummy looks on the inside. These are just a few of the many activities and exhibits you can do in this place.
3. Visit The Harley-Davidson Museum
If you walk or drive around Milwaukee long enough, you'll eventually come across the grand Harley-Davidson Museum. Located on 20-acres of land, the building complex has more than 400 original Harley-Davidson Motorcycles in its vast collection.
The building also holds various artifacts that take you on a long journey of the history and evolution of the brand, culture, and engines.
You not only get to witness traditional American culture but also the rebellious side of it as you walk through its stunning exhibitions.
In a nutshell, it's a great place worth visiting whether you like motorcycles or not. They also always have some sort of event going on, and if you're into motorcycles — Harley Davidson or other, you'll find it enjoyable. Click here to get your admission ticket ahead of time.
4. Try Some Delicious Milwaukee Restaurants
Milwaukee is home to many different restaurants and cuisines for different tastes.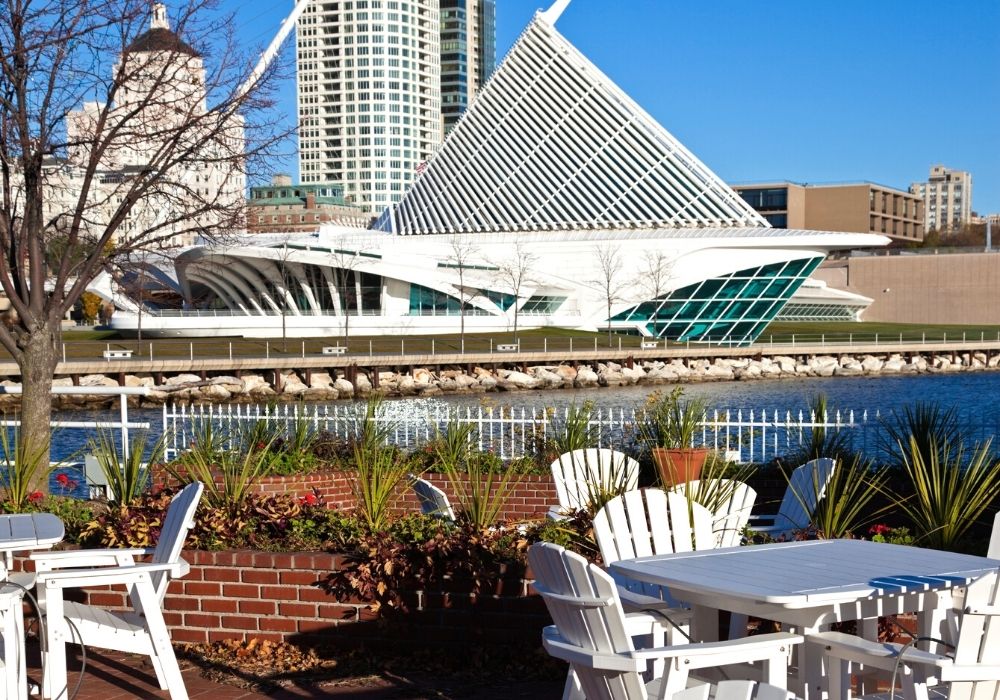 If you want to try some delicious Mexican food, visit El Señorial, located on the South Side of Milwaukee. If you want to try the best burgers in town, AJ Bombers is the place.
For an original chili recipe not found anywhere else, Real Chilli ​​is a top choice. If you're looking for something a bit fancier or fine dining options, Mo's A Place for Steaks is one of Milwaukee's very own.
☞ SEE ALSO: Weekend in Savannah – The Perfect 2 Day Itinerary
5. Visit The Milwaukee Art Museum
For art fans, the Milwaukee Art Museum should be on your list of top places to visit.
Not only is the place famous for the artifacts and art pieces that it possesses, but also for its building structure. Found in downtown Milwaukee, the art museum has interesting modern architecture.
Besides the main building, you can see a stunning suspension bridge and a future-looking and exquisite pavilion that adorns retractable wings. The wings open up and extend up to a wingspan of 217 feet when the museum opens in the morning.
Apart from the spectacular architecture, the interior is phenomenal as well.
There are over 25000 paintings, prints, and photos on display. If you enjoy art from artists like Pablo Picasso, Georgia O'Keeffe, and Claude Money, this place is perfect for satisfying your inner artistic geek.
6. Go for a Brewery Tour at Lakefront Brewery
Located on Commerce Street, Lakefront Brewery is one of the best places to visit in Milwaukee if you love beer. This is the number one go-to place for people if you want to try ales, lagers, stouts, and other high-quality beverages.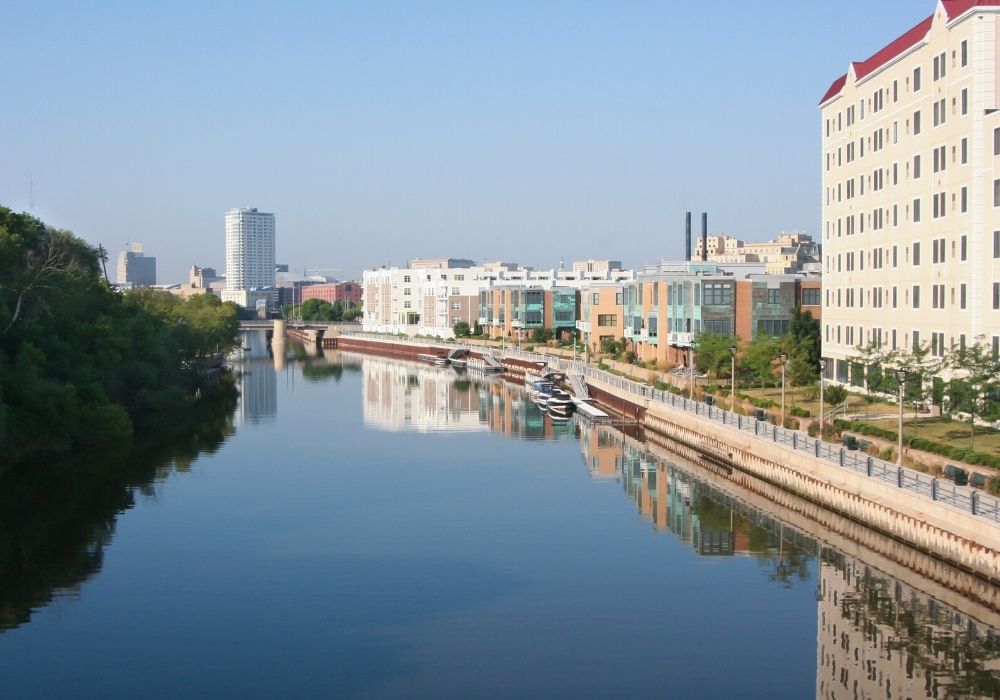 Since 1987, the business has been producing beers and offering tours that show how the drinks are brewed and bottled. You can also taste the many samples in the making!
Apart from sampling brews, you can stop and have something to eat along the way. Their fish tacos are one of their most popular dishes. The live music that plays in the background uplifts the entire mood of the area.
Looking for things to do in other US cities?
15 Best Things To Do in Austin
21 Fun Things To Do in New Orleans
21 Best Things To Do in Asheville
15 Fun Things To Do in Nashville
15 Awesome Things To Do in Portland
15 Best Things To Do in Sacramento
15 Top Things To Do in Key West
15 Best Things To Do in Boston
15 Top Things To Do in Detroit
15 Fun Things To Do in Seattle
15 Best Things To Do in Denver
15 Best Things To Do in Bozeman, Montana
15 Best Things To Do in Missoula, MT
15 Fun Things To Do in Whitefish, Montana
15 Best Things To Do in Dillon, Montana
15 Best Things To Do in Helena, Montana
15 Best Things to Do in Billings, MT
15 Best Things To Do in Philadelphia
10 Best Things To Do In Kiawah Island, South Carolina
25 Best Things To Do in Chicago, Illinois
7. Walk Through the Grandeur of Pabst Mansion
If the Victorian era fascinates you, you need to visit the Pabst Mansion. Constructed in 1892, the mansion is a part of a historic house museum and contains some of the most exquisite artifacts from the Flemish Renaissance.
Historians mention that the Pabst family had lived luxuriously till the early 20th century, which is very well depicted in the rooms of their house.
The place includes a pavilion, carriage house, greenhouse, and the residence, which possesses 37 rooms, 14 fireplaces, and many hidden compartments.
The museum offers tours that usually start with you exploring all the well-preserved rooms and halls of the mansion. Moreover, you also learn about the Pabst family history, how they acquired this grandeur, and their renowned brewery, Pabst Brewing Company.
8. Visit the Basilica of St. Josaphat
Situated on the corner of the Lincoln Avenue and sixth street, the Basilica of St. Josaphat is a designated Milwaukee Landmark which is known for having one of the largest copper domes in the world.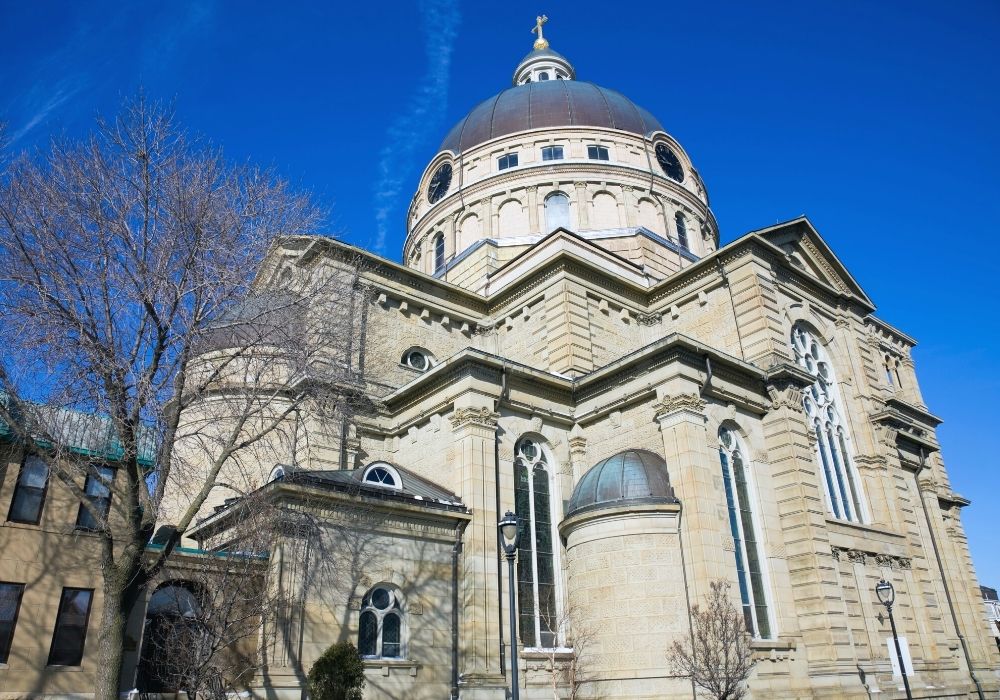 The structure was erected in the year 1901. It has stunning stone columns on the outside, and the interior is filled with fascinating murals and stained glass windows.
Overall, the place exhibits the most exemplary Renaissance architecture that you can find. The structure closely resembles the Polish Cathedral churches.
Visiting the basilica is definitely worthwhile, just don't make too much noise and be mindful with pictures since it is, after all, a church. It's one of the many free things to do in Milwaukee.
9. Sample Cocktails at Great Lakes Distillery
Owning the title of being Wisconsin's first distillery after prohibition, the Great Lakes Distillery is a must-visit when you come to Milwaukee. It's located south of Downtown Milwaukee.
The distillery was established in 2004 and produces every type of spirit you could think of, like absinthes, gins, whiskies, and vodkas.
The place also offers tours and tasting sessions that show you the building and how the drinks are fermented and produced.
On tours, you also have a chance to sample some amazing cocktails in their tasting room — plus liqueurs and rums as well.
Before visiting Great Lakes Distillery, make sure to hop onto their official website and check the timings. The tasting room, as well as the kitchen hours, vary throughout the week.
10. Go To A Game At The American Family Field
Previously known as Miller Park, the American Family Field is just five minutes away from the west of downtown. The field is home to the Milwaukee Brewers, who are a well-known team in the MLB.
The stadium has the capacity to hold almost 41,900 spectators, so the atmosphere is electrifying and provides a wholesome and invigorating experience.
The field is also famous for its movable roof. Out of the seven panels that make up the roof, five of them are movable.
It's worth purchasing some baseball souvenirs to take back home if you're visiting for the day. Tailgating before the games is also quite the experience, and it's a great way to meet new people.
Be sure to arrive a couple of hours early before the game, so you have enough time to enjoy it.
11. Learn About The History of North Point Lighthouse
Cocooned in the beautiful Lake Park is the bright North Point Lighthouse. Constructed in the year 1888, the lighthouse was built to mark the entry point of the Milwaukee River.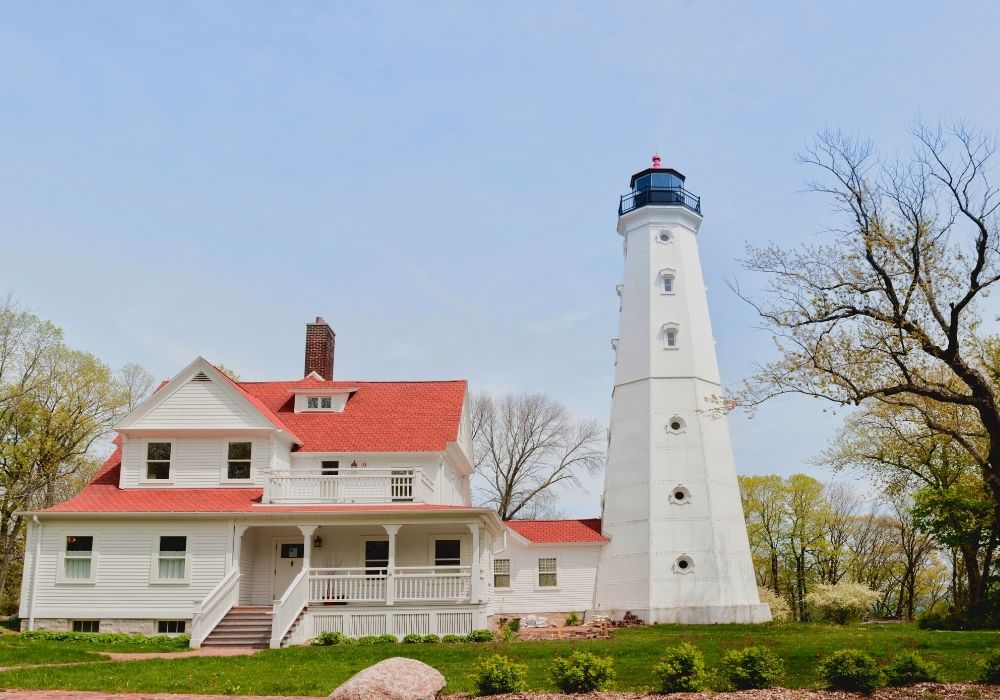 It holds a lot of interesting exhibits and unique artifacts. Plus, there are stories that cover information on the people that helped maintain it.
The North Point Lighthouse is only ten minutes away from Discovery World, so be sure to stop by before or after your visit. The history of the place is rich and will keep you on your toes the entire trip.
12. Take a Walk on the Milwaukee RiverWalk
Milwaukee RiverWalk is a great addition to the beautiful and lively cityscape. Present on either side of the Milwaukee River, the pedestrian walkway is ideal for a quiet romantic date.
It's pretty peaceful and allows you to appreciate the city from afar. It takes you past the public art displays, historical sights, and many cafes and brewpubs.
The RiverWalk spans over 3.1 miles and connects to three riverside neighborhoods — Historic Third Ward, Beerline B, and Downtown.
If you're in the nearby areas and want a break from the hustle and bustle, come here and allow your mind to relax for a bit.
13. Get Some Frozen Custard At Leons
Leon's has been serving Milwaukeeans frozen custard since 1942. Today, it's one of the most famous family-owned custard places in Milwaukee and the state.
Despite its immense popularity, the prices are quite reasonable and perfect for any budget. Apart from frozen custard, they also sell milkshakes.
Just be warned that if you go on a hot summer day, don't be surprised if you see long lines. It's open every day from 11 am to 11 pm, so it's the perfect dessert after dinner or lunch. Find it on the map here.
14. Kayak The Menomonee River
Menomonee River is one of the three primary rivers in the city. It is 33.0 miles in length and passes through different counties in Wisconsin apart from Milwaukee, like Waukesha and Washington county. Kayaking in the river is one of the most exciting Milwaukee activities.
If you're lucky, some of the common fish you might be able to see are brown trout, steelhead, and salmon.
Apart from kayaking, you can also go boating and canoeing. So, if you love watersports, this is the place to go. It's fun, and the river takes you along the cityscape of the city. Click here to book an affordable kayak rental online.
15. Bar Hop At Brady Street
If you're trying to figure out what to do in Milwaukee during the night, you can't go wrong with Brady Street. No trip is complete without going onto the busiest street of the city.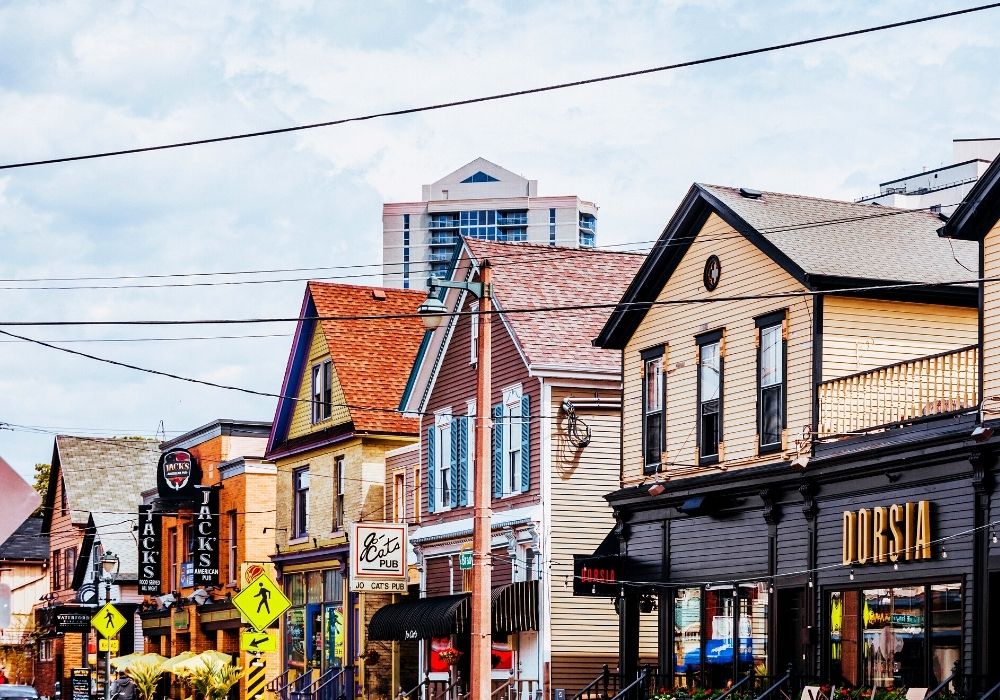 Brady street is home to numerous bars and restaurants and at night, it's one of the liveliest parts of Milwaukee.
While Water Street features a younger atmosphere with clubs and dancing bars, Brady Street is perfect for adults of any age.
There are always different events going on throughout the year, like pet parades and social events, so be on the lookout for any fun things that occur in the area while you visit.
Now You Know What to Do in Milwaukee
Overall, Milwaukee is a great city to visit no matter what kind of group you're visiting it with. There are all types of fun activities you can do that everyone can enjoy.
There is a mix of various cultures from all around the world, offering unique things to do and a great way to experience new things.
Plus, it's centered in a strategic location that offers multiple day trip opportunities to places away from the city. If you want a memorable and enjoyable vacation, Milwaukee is one of the best cities to check out in the United States.
Like This Article? Pin it!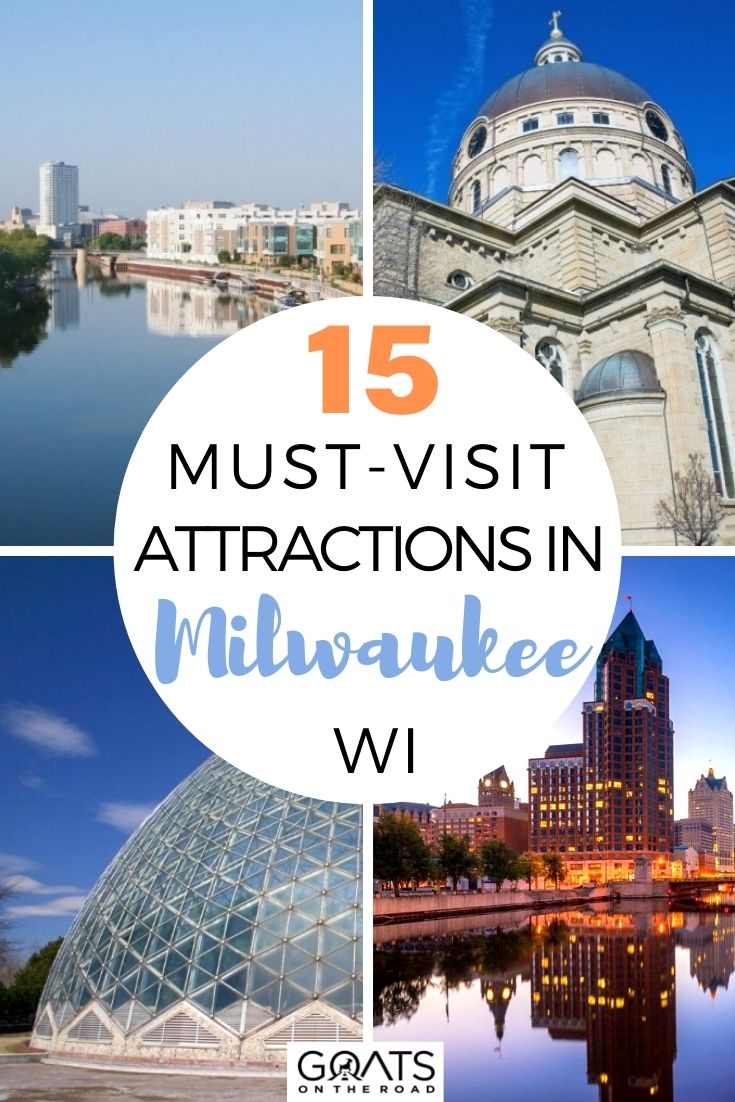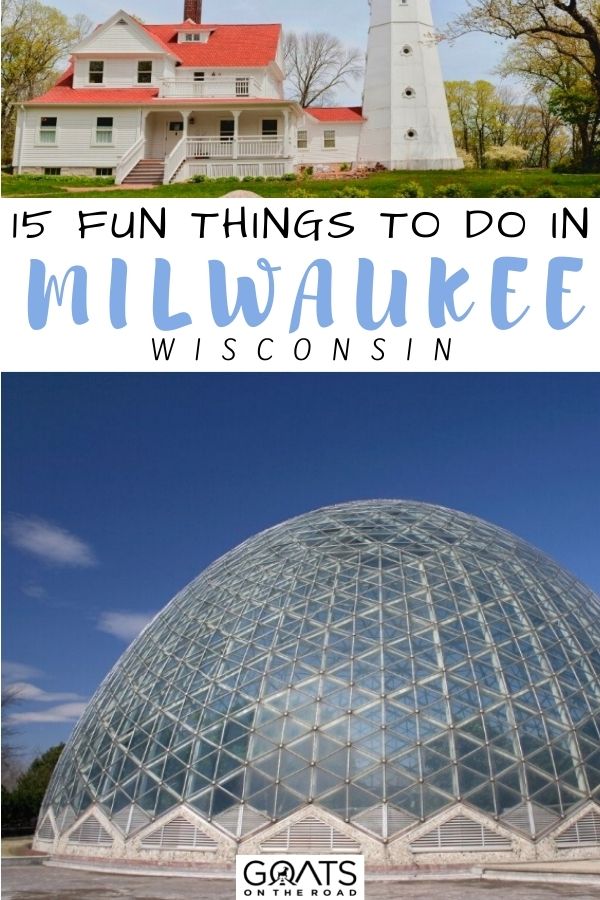 The post 15 Best Things To Do in Milwaukee, Wisconsin appeared first on Goats On The Road.