There's no need to break the bank in this expensive city – Check out our list of the best free things to do in Melbourne!
Of all the cities in Australia, Melbourne is seen as the cultural one. It is full of international visitors and residents, which is surely a testament to its attractive vibe.
The city is equally adored by patriotic Melbournians; they will be the first to tell you how amazing it is, and they are usually happy to impart details of their favourite spots.
While Sydney attracts more visitors, it's actually Melbourne that ends up winning tourist's hearts.
There are an unfathomable amount of things to see in Melbourne – it would be a real challenge to get bored!
Although there is plenty to spend money on, it's also totally possible to have a wonderful experience in Melbourne without touching your purse.
READ MORE: Check out our new travel guide on all the best day trips from Melbourne!
The Best Free Things To Do In Melbourne
The beaches are world famous, as are the National Galleries, certain markets, parks, and of course the Yarra River, to name a few. With all these fun attractions, it's quite easy to enjoy Melbourne for free.
Below you can find a list of some of the best free things to do in Melbourne.
1) Hang Out In Federation Square
No Melbourne sightseeing would be complete without a visit to the famous Federation Square.
The square, affectionately known as 'Fed Square', is the city's main meeting point and is bustling with all kinds of free events, all year around.
There are also plenty of restaurants, cafes and bars to hang out in, and if you do want to put your hand in your pocket, you'll find some very cool shops here.
2) Tour Melbourne's Spectacular Churches
This is another one for the architecture lovers; Melbourne has some seriously beautiful churches to explore, and taking a look around these can transport you out of the city atmosphere and into a spiritual realm!
First on your to-do list should be St Paul's Cathedral, designed by William Butterfield, and English architect. You can find this neo-Gothic style cathedral in the centre of Melbourne's central business district.
Close by there is St Patrick's Cathedral, too; this beautiful medieval-style building is well worth snapping.
Another couple of impressive churches worth putting on your list are the St Mary Star of the Sea Church and St Michael's Uniting Church.
3) View World-Class Artwork
Victoria has so many art galleries. A good port of call is NGV International (National Gallery of Victoria), which houses international art exhibitions.
You will find world famous artists' works of all kinds here. It won't cost anything to view the permanent collections, and it's often free to view some of the temporary ones too.
Head down to St Kilda Road on any day except Tuesday, between 10am and 5pm.
Another great free art gallery is the Australian Centre for Contemporary Art (ACCA) in Southbank, which exhibits some very special contemporary and innovative art.
As the gallery commissions the art, it is quite unusual! Even the building is a work of art in its own right.
Love street art? Don't miss out on Hosier Lane.
National Gallery of Victoria
Address: 180 St Kilda Rd
Opening hours: every day from 10 AM – 5 PM
Australian Centre for Contemporary Art
Address: 111 Sturt St
Opening hours: Tuesday – Friday from 10 AM – 5 PM, Saturday – Sunday from 11 AM – 5 PM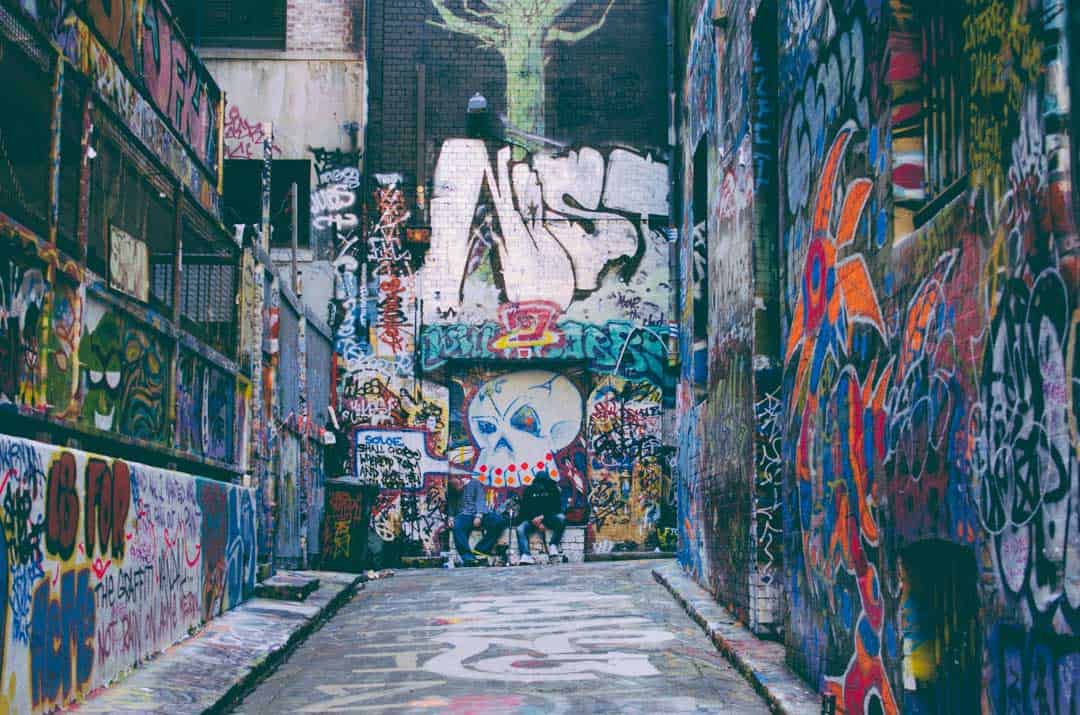 4) Relax In The Green Gardens And Parks
If you're wondering what to do in Melbourne, head to some of its amazing parks and enjoy a relaxing afternoon in nature!
Melbourne is home to some of the finest gardens and parks in the whole country. You can't go wrong with a visit the Royal Botanic Gardens, situated close to the CBD.
Here you can immerse yourself in beautiful nature, relaxing amidst the many different trees, plants and flowers. There is a whopping 38 hectares to cover, so you can easily spend an entire day here if you wish.
There is also the Royal Park, a huge park spread out over 180 hectares. You can get around it by train or tram, and hang out in the Zoological Gardens.
Other gardens worth your time are Fitzroy Gardens and Treasury Gardens, which are more or less next to each other.
Royal Botanic Gardens
Address: Birdwood Ave
Opening hours: every day from 7:30 AM – 7:30 PM
Royal Park
Address: Lot 1 Flemington Rd
Opening hours: 24h/7
Heading elsewhere in Australia? Check out our list of the best things to do in Perth!
5) Delve Into The History Of The Aborigines
Aboriginal history is quite interesting, to say the least.
If you head down to the Koorie Heritage Trust Cultural Centre in Federation Square, you will get to find out what Melbourne was like before the British colonisation of two centuries back.
The Wurundjeri people were the original custodians of the land, and you can learn all about them at this centre; you'll also learn about the fascinating Koorie culture and history.
There is a social history exhibition that is always there, and there are plenty of other exhibitions by aboriginal artists.
These change from time to time so you'll need to check the website to see what's on.
6) Walk Along The Yarra River
The Yarra River is seen as the social heart of Melbourne, and it would be shame to miss out on a stroll along its banks.
In the daytime, you can see beautiful street art and unusual buildings. In the evening, lights bounce off the water, painting a very colourful scene.
A Yarra walk is ambient and relaxing at any time of day.
Along the riverbanks you can find of barbecue and picnic facilities, as well as jetties and fishing platforms. There are also paths and trails for those who want to take a jog or bike ride along the water's edge.
You can hop onto any of the river crafts at Southgate or Princes Walk, or even take your own boat down the Yarra.
That's a good way of getting to attractions like Melbourne Park, the Royal Botanical Gardens, or Herring Island Park.
This river is also the site of various festivals and events throughout the year. It's one of the best places to visit in Melbourne!
7) Explore Melbourne's Town Hall
If you love history and architecture, don't miss a visit to the town hall on Swanston Street while you're in Melbourne.
This is one impressive piece of architecture; it is made of bluestone and Tasmanian freestone and it's quite a sight.
There is plenty going on inside too; the Town Hall hosts all kinds of concerts, comedy acts and public talks throughout the year, so if you're lucky there may be something happening during your visit.
Even Abba and The Beatles have played here! There is a main auditorium and a number of smaller chambers, all of which are used for such events.
Don't forget to take a look at the old Grand Organ from 1929 while you're there.
Address: 90-130 Swanston St
Opening hours: Monday – Friday from 8:30 AM – 12:30 PM
For a free tour Monday – Friday, call 03 9658 9658 or book online.
READ MORE: Our latest blog post dives into how to spend 3 days in Melbourne like a boss!
8) Tour The City Centre On The City Circle Tram Or Tourist Shuttle Bus
Hop on the free city circle tram – it's the best way to check out all sights on your what to see in Melbourne list!
The tram is actually a very cool way of travelling between the major Melbourne attractions. It will drop you at sites such as Fed Square, Parliament House and the fascinating Melbourne Aquarium.
Trams run every 12 minutes, but the hours vary dependent on the day. Between Sunday and Wednesday you can jump on from 10am until 6pm. From Thursday to Saturday they go on until 9pm.
There is also a free tourist shuttle bus every 30 minutes between 9.30am and 4pm, and this will take you to attractions like the Queen Victoria Market and Chinatown.
If you stay on board, there will be a guide on the bus to educate you throughout the 1.5-hour route. Definitely one of the best things to do in Melbourne.
9) Get The St Kilda Foreshore Experience
St Kilda beach area is another one of top Melbourne tourist attractions.
There is a lot going on here, which means great people watching opportunities – especially on Acland Street, a favoured spot for pavement café lounging, window shopping and cake quaffing.
The busy, vibrant beach area attracts everyone from fishermen to kite surfers, and the promenade and St Kilda Pier make for a lovely walk and epic views.
Luna Park is another interesting spot with its archaic amusement rides, but those aren't free to ride.
Every Sunday you can find a craft market on the Esplanade; incidentally, the Esplanade Hotel is a go-to venue for awesome (and often free) live music gigs.
Exploring this vibrant beach town and going for a stroll down St Kilda Pier are both perfect for sunny days and they are completely free.
Just a 10 minute drive away from St Kilda is Brighton Beach, another free spot. Brighton Beach is most famous for the colorful Brighton Beach Bathing Boxes which line the sand and make for great photos.
10) Explore The Melbourne Markets
Melbourne has many a market and each has something different to offer. You'll find everything from local produce to gourmet street food, crafts and secondhand goods.
Even if you don't want to spend anything, the atmosphere is interesting and there are plenty of free food samples on offer.
The biggest and best-known market is Queen Victoria Market, but if you prefer the quieter and less 'touristy' markets, you can check out Camberwell Market, or the Rose Street Artists Market in Fitzroy.
The South Melbourne Market is also open on weekends and Wednesdays, which is a great place to grab coffee and fresh produce.
To combine live music fun with a market vibe, try the summertime night market at Victoria Market. It's a Melbourne must see!
11) Meander The Lanes
The city centre is made up of an intricate network of lanes, alleys and arcades. It can be hard to know where to start, but you can pop down to Fed Square visitor centre for a map.
One good starting point would be Degraves Street, which is off Flinders St. It's a relaxing spot with great coffee options, so you can sit and watch the city go by before you set out to explore the rest of the lanes.
Opposite Degraves Street you will find Centre Place, another interesting alley with cool boutique stores and bars.
You could spend hours and hours taking in the sights and vibes of Melbourne's lanes and alleys, so make sure your schedule accommodates!
With the help of this guide, you should easily fill your trip with meaningful and memorable activities without denting your bank balance too much.
It will soon be clear why Melbourne is considered to be the 'world's most liveable city'! Have fun.
That's it for our list of the best free things to do in Melbourne. Have we missed anything? Did our article help you? Leave a comment below and let us know!