Pasadena, California, is known to have one of the best food scenes in Los Angeles. New cafes, eateries, and restaurants in Pasadena are opening monthly. We've gathered a list of superb Pasadena restaurants you should have on your radar.
One of the top reasons we moved to Pasadena was the incredible restaurants and places to eat. Whether you're looking for an upscale dining experience or a casual spot to grab lunch, you'll find it here.
With new restaurants opening all the time, it can be hard to keep track of all the best eats this city offers. However, there are established and popular restaurants in Pasadena you must try at least once.
There are great restaurants, and then there are superb restaurants. The ones that, from start to finish, you enjoy every bite and experience.
We are talking about the quality of the food, the service, and the ambiance – all of which makes for an amazing dining experience.
Whether with friends, to celebrate an occasion, or on a date night, these ten Pasadena restaurants will give you an unforgettable dining experience from start to finish.
Most importantly, will the food rock your world?
From amazing pasta at Union and Marina to the apple tartine at Perle, here are ten superb Pasadena restaurants you should have on your tasty itinerary. This is just a start.
We are Pasadena locals sharing our love of food and the things to do in Pasadena.
Superb Pasadena Restaurants
1. Perle Restaurant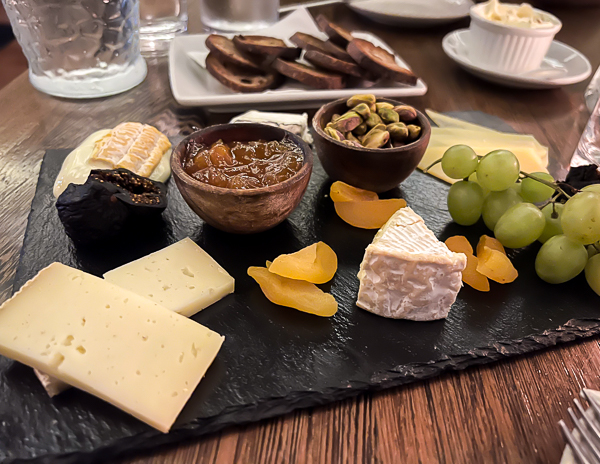 Located in Old Pasadena, Perle, a Michelin guide restaurant delights with its inspired French cuisine and is one of the best restaurants in Pasadena.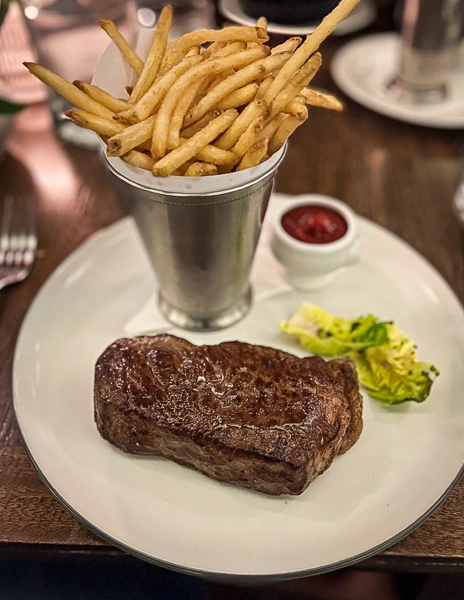 The pre-fixe menu at Perle changes weekly, but their classic menu with favorites like cheese boards. escargot, french onion soup, coq au vin, steak frites, moules à la normade is always available.
And their apple tarte tatin is one of the best desserts around. It was love at first bite.
The food and the service here, with finesse and attention to detail, leave you feeling spoiled and comfortable. You won't feel outside your comfort zone.
Sitting inside, you can enjoy the quieter atmosphere with the dim lighting and cozy but chic atmosphere. Perfect for a romantic dinner in Pasadena.
Reservations are a must.
Perle | 43 Union St, Pasadena | Google Map It
2. Union Restaurant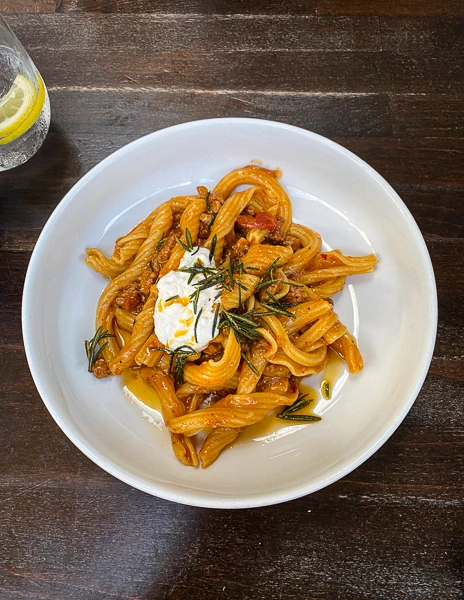 In the heart of Old Pasadena is Union, another Michelin Guide restaurant in Pasadena. This small restaurant is known for its cozy yet lively atmosphere and Northern Italian-inspired cuisine.
The fresh homemade pasta is the star of the show, although everything from the bread to the entrees and desserts are incredible.
We always reminisce about our trips to Italy over a bowl of pasta while dining at Union. There hasn't been a pasta dish that we have tried here that hasn't had us singing their praises.
Once, we ordered seconds of the torchetti pasta after our entree was delivered. The combination of the calabrese pork ragu and fried rosemary was unexpected and satisfying. The dish taste like home.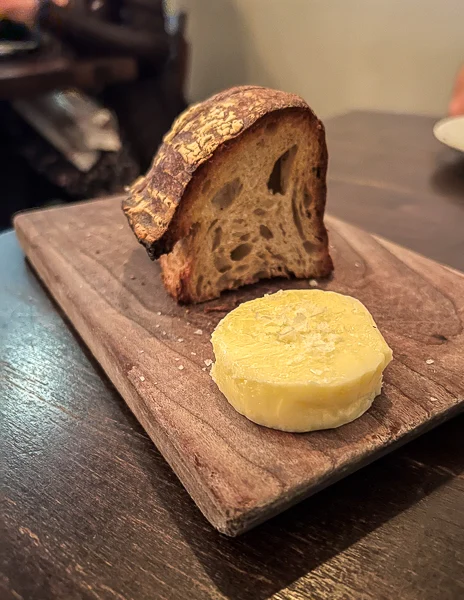 And the crusty fresh bread with homemade butter is worth the extra carb intake.
The service at Union is always top-notch and friendly. Indoor and outdoor seating is available.
Reservations are highly recommended. Sometimes you can get lucky with a walk-in, but you can't always count on it.
Union | 37 Union St, Pasadena | Google Map It
3. The Arbour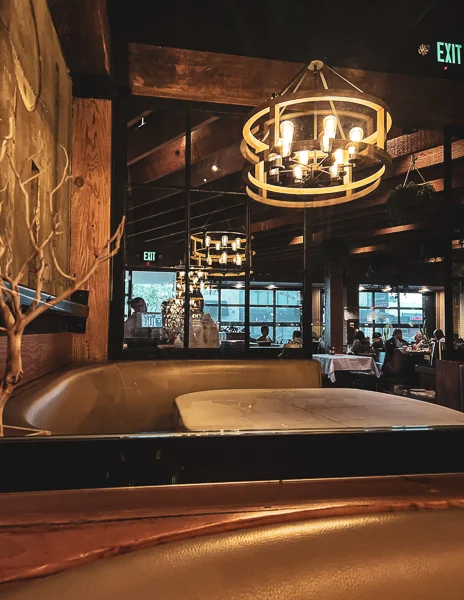 Located on N Lake Ave is one the best restaurants in Pasadena that you don't hear about very often. The Arbour is a farm-to-table restaurant serving delicious California fare and perfectly crafted cocktails.
The Arbour is one of those restaurants you visit once and want to return to again and again. From the food to the service, we left the Arbour incredibly impressed and wondering why we hadn't been there sooner.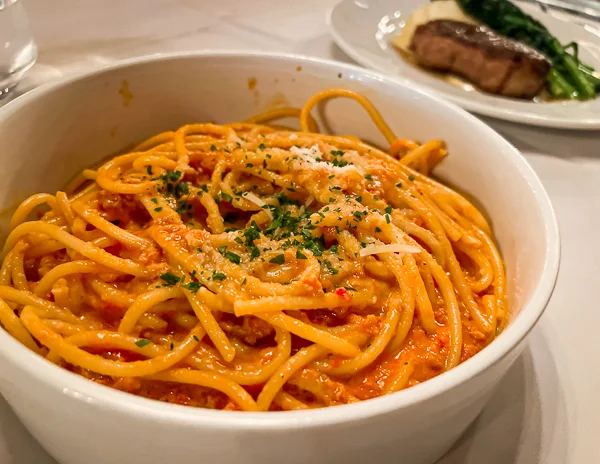 There are various options on their menu, but their bucatini alla vodka called for us as we kept seeing it being served around us. For not being an Italian restaurant, they hit a home run with this pasta dish.
Please don't leave without having the apple strudel, it is a must. The warm flavors of cinnamon and gala apples with a hint of salted caramel with the flakey buttery pastry and the side of vanilla ice cream make for the perfect ending to an unforgettable meal.
This is a beautiful restaurant with elegant touches. The service and atmosphere make it a spot where you can relax and enjoy the dishes while being taken care of by well-trained staff.
Reservations recommended.
The Arbour | 527 S Lake Ave #120, Pasadena | Google Map It
Great Spots for Lunch in Pasadena, CA
Where to eat lunch in Pasadena? There are plenty of choices, but we narrow down some best eateries, cafes, and restaurants in Pasadena for lunch, from casual eats to grab-and-go, and where you can have a nice leisurely lunch.
4. Entre Nous French Bistro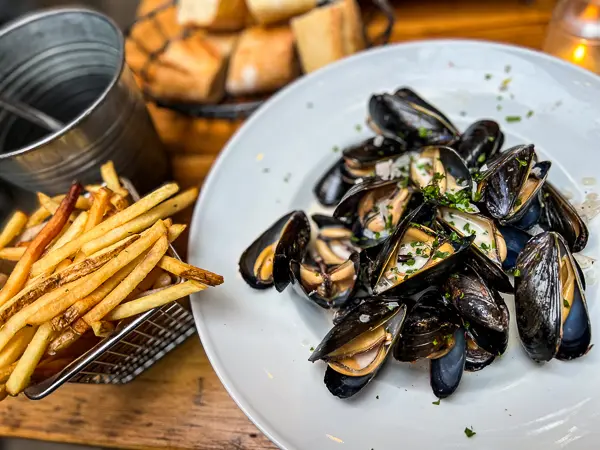 Entre Nous, this intimate french bistro on Greet Street, is on the top of our favorite Pasadena restaurants. Every time we eat here, we feel like we are back in Paris.
The atmosphere is inviting and intimate, with French movie posters inside the restaurant. Outdoor seating is romantic with soft lighting.
The menu is classic French but also has modern touches. The escargot, moules marinières, steak tartare, and filet mignon are among the favorites you'll see being served, including the chef's selection of the Charcuterie and Fromages.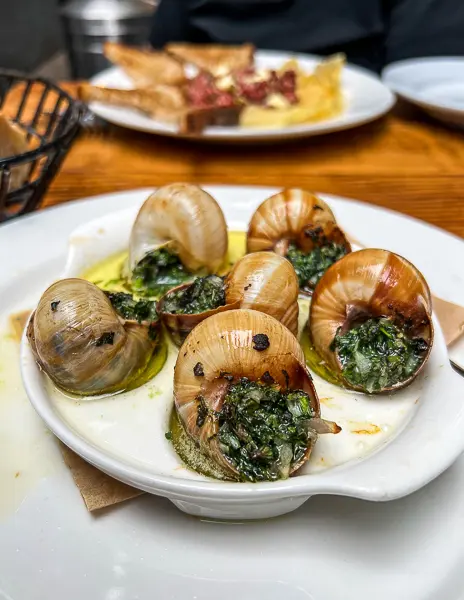 There isn't a dish we haven't loved. The escargot is buttery and garlicky. The brie en croûte is a lovely combination of melty cheese and a flakey pastry crust. The ribeye and pomme frites is always a good idea.
The kind staff always makes us smile with their love for the food they serve. You'll be in good hands when dining at Entre Nous.
Make sure you look at the dessert menu because it has classic favorites like crème brûlée and Tarte Tatin.
Reservations recommended.
Entre Nous | 119 W Green St, Pasadena | Google Map It
5. Agnes Restaurant and Cheesery
For the love of cheese and delicious food, Agnes Restaurant in Old Town Pasadena is one of those restaurants in Pasadena you have to visit for brunch and dinner. Also, a Michelin Guide restaurant in Pasadena.
At Agnes, their menu will feature a mix of modern mid-western and European-inspired dishes. The food is made with high-quality ingredients, local produce, and lots of love.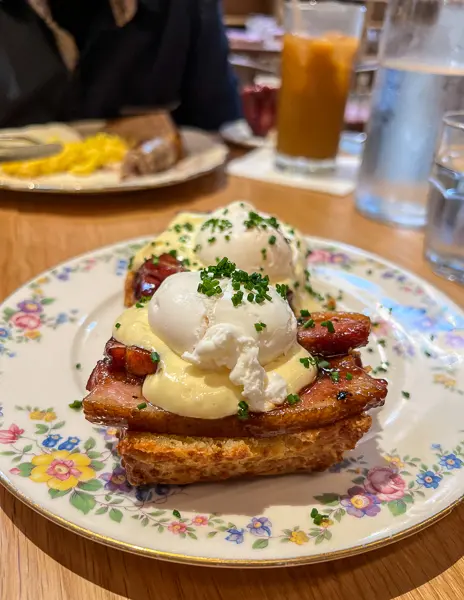 Brunch at Agnes is a delight, and the restaurant is a favorite spot for brunch in Pasadena. Their menu offers a mix of unique breakfast items and delicious savory dishes that are sure to please. You will fall in love with everything, from their braised bacon benny made with cheddar biscuits to their shrimp and grits.
Dinner is outstanding. You can't go wrong, from their meat and cheese boards to their fresh radiator pasta that's handmade in-house.
And their S'Mores Cocoa Taco is a must.
Service here is always excellent. The staff is always ready to steer you in the right direction with recommendations and cocktail pairings.
Reservations recommended.
Agnes | 40 W Green St, Pasadena | Google Map It
6. Marina Restaurant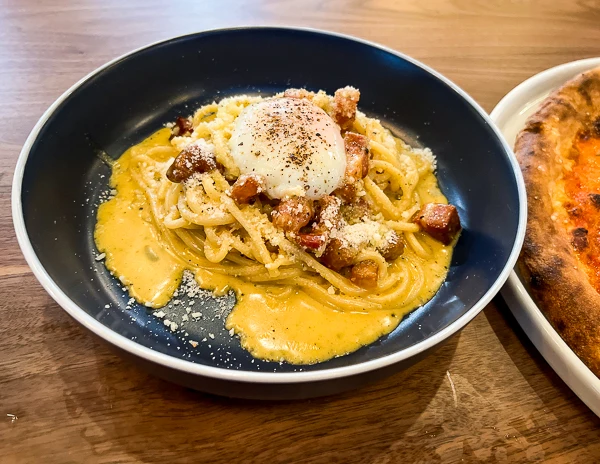 Marina is a new Italian restaurant in Pasadena on Cordova St, off of N Lake Ave, serving the best of both worlds: pizza and pasta dishes. Always searching for great pasta and pizza in Pasadena, we dined at Marina when it first opened.
Everything about this restaurant is inviting, from the seating area to the wood-burning oven. The decor is trendy but cozy, perfect for an intimate dinner or a night out with friends.
Order starter plates and different kinds of pasta to share, and don't forget the pizza. Everything is prepared in-house or fresh from local farms and suppliers.
Their pasta dishes hit home for us, their bucatini carbonara being one of our favorites.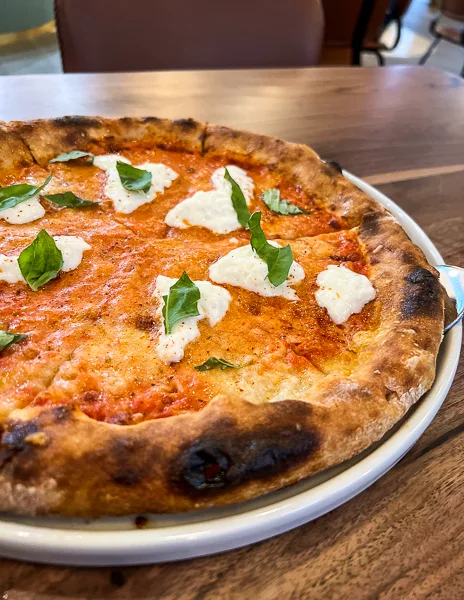 The classic Margherita pizza is cooked in the wood-fired oven and topped with Mozzarella di Bufala and fresh basil. It checked everything off on our list of what makes a delicious pizza.
Service is exceptional, and the staff goes out of their way to ensure you are enjoying your meal. And the owner may come over to say hello.
Reservations recommended.
Marina | 841 Cordova St, Pasadena | Google Map It
7. Smitty's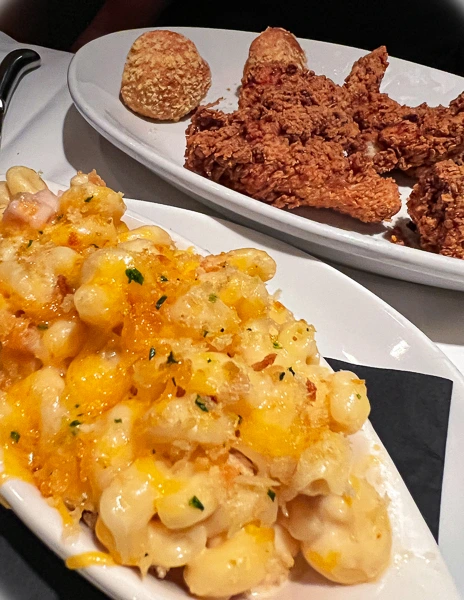 Smitty's Grill in Pasadena is a neighborhood favorite serving classic American dishes.
This Pasadena restaurant is the perfect spot to catch up with friends and family over fantastic comfort food and great cocktails. It feels like a family affair at Smitty's in an intimate setting. The atmosphere is casual and homey, and the dim lighting and old photos around the restaurant set the mood.
The menu features American comfort foods like meatloaf, chicken pot pie, and buttermilk fried chicken. They also have shrimp cocktail, ribs, and roasted prime rib.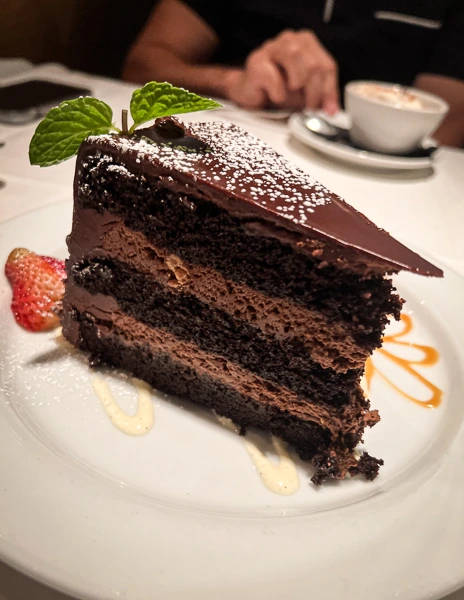 Smitty's is one of those restaurants that will please everyone and leave everyone talking about the excellent meal, especially if you finish the night off with their double dark chocolate mousse cake.
The service is always friendly, and even though it may be your first, second or fifth time there, they make you feel like part of the family.
Reservations recommended.
Smitty's Grill | 110 S Lake Ave, Pasadena | Google Map It
Delicious California Foods To Try When Visiting
Wondering what to eat when you visit California? This list of foods from California includes beloved foods that originated from California and is produced in the Golden State from Los Angeles, San Francisco, and other cities.
8. The Raymond 1886 Restaurant
The Raymond is an established Pasadena restaurant that is beloved by locals. The location is rich in history, as it is the cottage that was part of The Raymond Hotel in 1886.
While the hotel no longer exists, the cottage today is one of the best restaurants in town, serving amazing crafted cocktails and fabulous dishes.
This Pasadena restaurant is located on South Raymond Avenue and offers a classic and comfortable vibe. There is also a beautiful outdoor area that is lovely for brunch on a warm day.
The Raymond 1886 menu features freshly made dishes with locally sourced ingredients. Their classic dishes include seabass, shrimp scampi, and beef short ribs cooked to perfection.
Brunch and dinner are popular at The Raymond. You can go wrong dining at either time. Both menus feature delicious items that are sure.
Reservations recommended.
The Raymond | 536 S Arroyo Pkwy, Pasadena, CA 91105 (Google Map It) | Reservations
9. Arroyo Chop House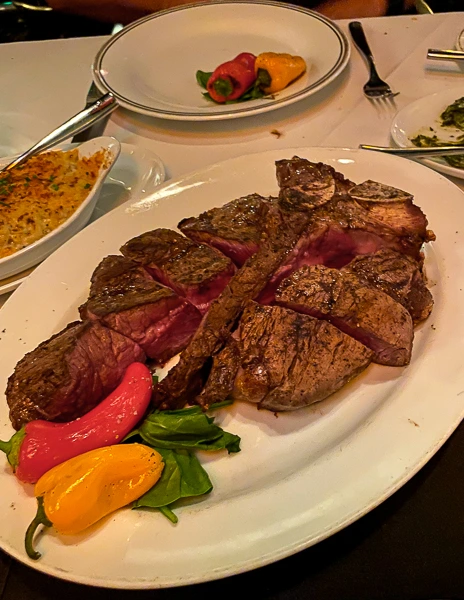 Arroyo Chop House is a steakhouse in Pasadena offering a classic and stylish atmosphere with top-of-the-line USDA prime beef.
This restaurant shows great attention to detail, and the service is always first-rate. The staff takes great care of guests, walking them through their cuts of steak and sides and recommending pairings.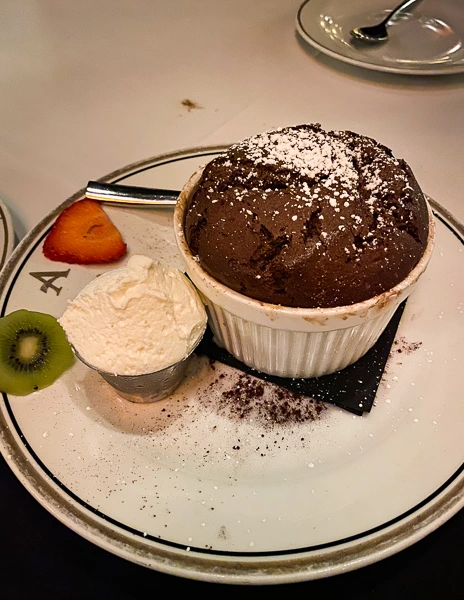 We love Arroyo Chop House for special occasions. The steaks are high quality, tender, and cooked to your preference. The sides, like their scalloped potatoes, are a must-try, and if souffle is on the menu for dessert, order it in advance.
This is one of those restaurants you'll be happy to return to.
Reservations recommended.
Arroyo Chophouse | 536 S Arroyo Pkwy, Pasadena | Google Map It
10. Kaviar Sushi Bar
Sushi lovers, Kaviar in Pasadena is an upscale Japanese kitchen that will provide you with a superb dining experience.
This Japanese restaurant emphasizes high-quality fresh ingredients and serves exquisite sushi, sashimi… and even wagyu. Many dishes are creative and skillfully presented as small works of art, worthy of you taking your phone out for a photo.
The restaurant is appreciated by many for its authentic, attentive service and modern atmosphere.
You'll probably dish out more to eat here than at your average sushi spot in Pasadena, but if you love excellent sushi, you'll appreciate the experience.
Kaviar | 70 N Raymond Ave #250, Pasadena | Google Map It
Other most talked about restaurants in Pasadena:
Fishwives – New England-style seafood dish, also a Michelin Guide restaurant.
Pasadena is a foodie's paradise. These ten restaurants are some of the city's best. You'll surely have a fantastic dinner at any of these places.
But that doesn't mean Pasadena is restricted to just these restaurants, as there are plenty more places to eat a delicious meal.
Check out our Places to Eat Pasadena, which features a variety of eateries from burger joints, pizza spots, casual restaurants, and more.
What Pasadena restaurants make your list of "superb" restaurants in Pasadena?
Don't forget to share the love on Pinterest: