Where to eat lunch in Pasadena? There are plenty of choices, but we narrow down some best eateries, cafes, and restaurants in Pasadena for lunch, from casual eats to grab-and-go, and where you can have a nice leisurely lunch.
In a city like Pasadena, where there are many delicious places to eat, it can be difficult to decide where to go for lunch. Our biggest problem is always choosing whether to have brunch or lunch. You can't go wrong with either in Pasadena.
Sometimes, it's the middle of the day, and you just need a quick bite. Maybe you're on your lunch break from work or running errands. Or you're visiting and exploring Pasadena and looking for a lunch spot. For those moments, we've got you covered with some great grab-and-go spots.
If you're looking for something a little more leisurely, there are plenty of great places to sit down and enjoy a great meal.
While there is also some budget-friendly eats in Pasadena, lunch doesn't have to be expensive.
Lastly, we know that sometimes a nice cocktail or appreciated while out to lunch with friends or partners. A couple of these lunch spots in Pasadena also have great bar menus should you find yourself thirsty.
We tend to lean towards tacos, sandwiches, or burgers when we go out to lunch in Pasadena since we eat so many salads at home. Of course, a delicious salad or some sushi sometimes rounds out the day.
Eateries like Sweet Greens, Tender Greens, In-n-Out, and the Stand are always great standbys and never fail. However, in this article, we dive spots to have lunch in Pasadena that may not be on your radar or may be a good old Pasadena favorite. Either way, you're bound to find a tasty itinerary.
Spots for Lunch in Pasadena
1. Dot's Cafe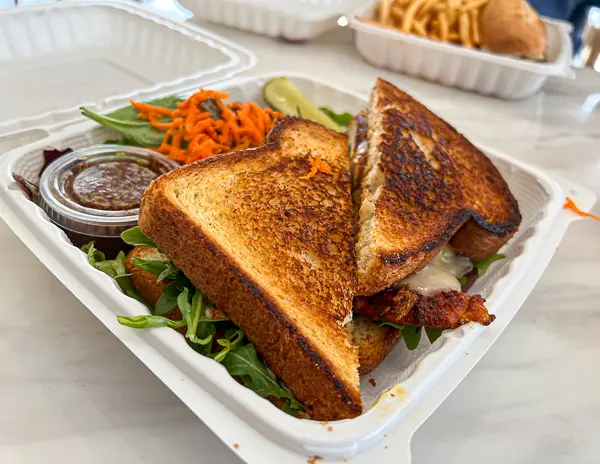 Dot's Cafe is one of the best places for lunch in Pasadena. They serve top-quality food that they prepare in-house, including their bread.
The menu has a variety of hearty sandwiches like the steak chimichurri to healthy and filling salads. And if you are a sucker for dessert, don't worry they have a full dessert bar you can choose from!
You can choose to take it to go or eat inside their charming cafe.
Did you know they have weekly healthy meal plans you can order ahead? Have Dot's lunch or dinner ready to go in your fridge.
Dot's Cafe | 3819 E Colorado Blvd, Pasadena | Google Map It
2. Roma Italian Deli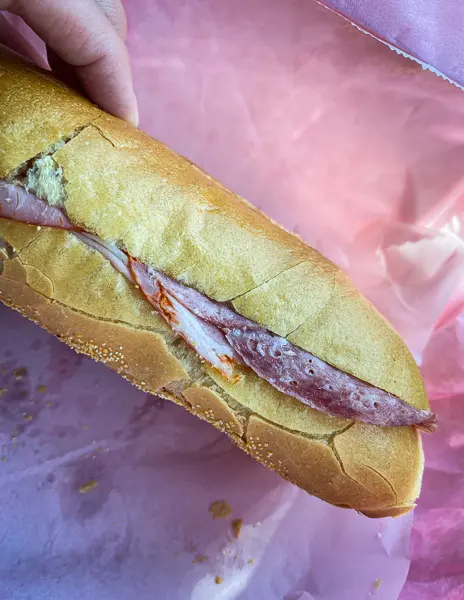 Head over to Roma Italian Deli for one of the best grab-and-go lunches in Pasadena. And Roma's is a local institution in Pasadena.
"The Sandwich" is an already prepared Italian sandwich consisting of Italian cold-cuts inside a crusty fresh baked Italian bread. It's simple but a legit sandwich that hits the spot.
And, it's less than $7. What more can you ask for?
FYI: There may be a line, but it goes fast. The sandwiches are already prepared and ready to go at the counter. They'll be wrapped in pink paper.
Roma Italian Market | 918 N Lake Ave, Pasadena | Google Map It
Breakfast and Brunch in Pasadena, CA
Where to have a full breakfast and brunch in Pasadena? These fantastic spots serve delicious pancakes, chicken and waffles, mimosa carafes, and other great brunch items.
3. Janejira Thai Bistro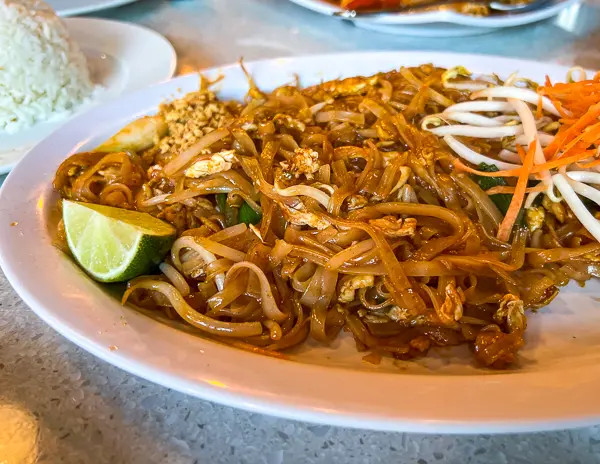 Not only is Janejira Thai Bistro one of the best Thai restaurants in Pasadena, but they also have an amazing lunch special.
For less than $11, from 11 am to 3 pm every day, you can get a lunch entree, soup, an egg roll and fried wonton, and a spring roll. The entree options are some of your favorites, from yellow curry pad see you, pad Thai, and more.
Pair that with a Thai Iced Tea, and you are good to go.
At Janjira Thai, you can sit down and enjoy a nice lunch.
Janejira Thai Bistro | 754 E Colorado Blvd, Pasadena | Google Map It
4. Brooklyn Square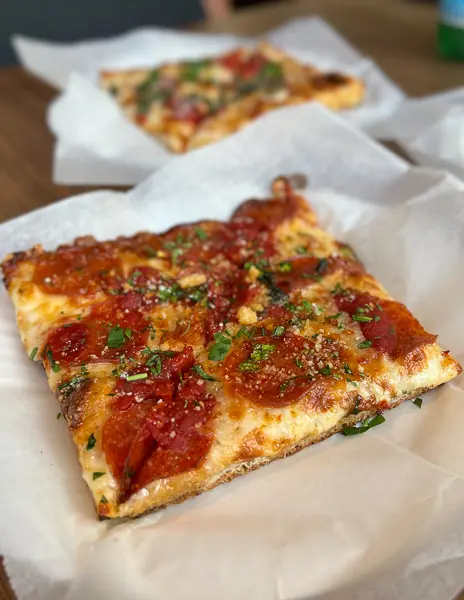 Finally, delicious pizza by the slice in Old Town Pasadena at the most recently opened Brooklyn Square. Grab a grandma slice or two – they are pretty large – and a drink, and voila, you have lunch in Pasadena.
Brooklyn Square is a NY-style deli and pizzeria. They also have NY deli sandwiches prepared with Boars Head cold cuts. We haven't had the sandwiches, but they look pretty darn good.
What's great about Brooklyn Square, besides their fantastic pizza, is its quick bite. You can order, eat and be out of there in 30 minutes.
BKSQ | 61 S Fair Oaks Ave #110, Pasadena | Google Map It
5. Rosarito's Mexican Food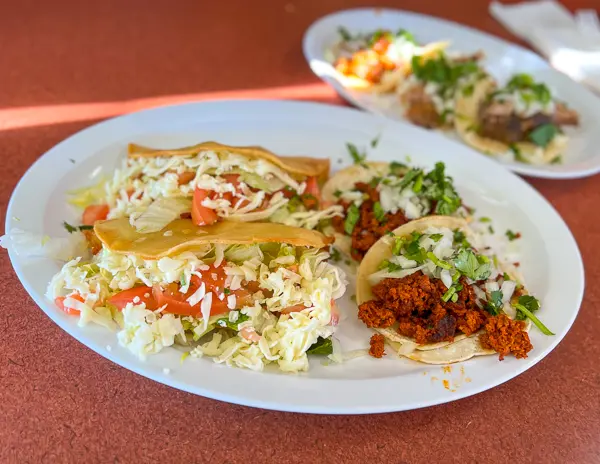 Rosarito's is not mentioned enough, but this family-run spot serves great tacos for lunch in Pasadena. For around $2 a taco, you can order a few and curve whatever taco craving you may have that day.
The potato taco at Rosarito's is a favorite of ours. The taco is stuffed with potatoes and is fried fresh. It comes out nice and crispy, then topped with cheese and shredded lettuce. Dip or pour some spicy salsa over it.
The chorizo and carne asada tacos are also very tasty, and all the tacos come with two soft shell tortillas.
Be aware that lunchtime is filled with locals, and seating can be limited. You can order and take it to go, too.
Rosarito's | 2237 E Colorado Blvd, Pasadena | Google Map It
6. Daddy's Chicken Shack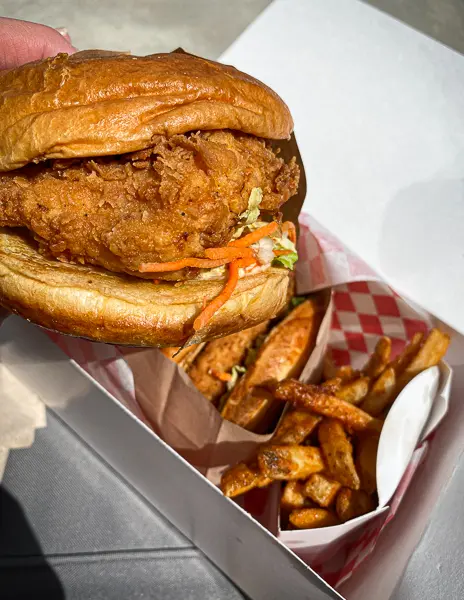 For a legit fried chicken sandwich for lunch in Pasadena, Daddy's Chicken Shack has you covered.
The Big Daddy Sandwich is filling and delicious. The chicken is juicy, the brioche bun is soft and fluffy, and it is only $12. The seasoned fries are worth ordering them to go as a side.
The Daddy's Chicken Shack location is a to-go spot. So if you can't stand one of the few tables they have outside, plan to order and take it with you to eat it elsewhere. Rest assured, their fried chicken will not disappoint.
Daddy's Chicken Shack | 11 W Dayton St, Pasadena | Google Map It
7. Amara's Cafe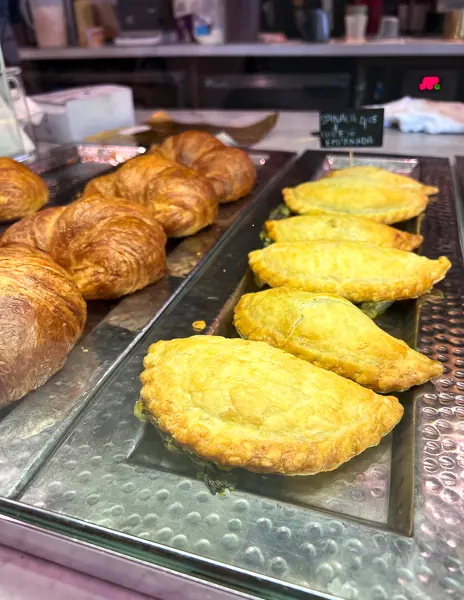 For a delicious South American lunch in Old Town Pasadena, go directly to Amara's Cafe. Amara's is known in town for their phenomenal Spanish churros and decadent hot chocolate, but they also serve some of the best food in town.
You can grab quick bites like empanadas, takes, and other delicious pastries at Amara's. You can indulge in some favorites: arepas, a Cuban sandwich, Amara's Steak sandwich, a cachapa plate, and more.
One thing is for sure, you will leave with your stomach and heart full from the delicious lunch you'll have here.
Order some churros to share if you're eating here with a group. Or for yourself. They are a nice treat!
Note that they are closed on Mondays.
Amara Café | 55 S Raymond Ave, Pasadena | Google Map It
– Don't Miss: Wonderful Cafes and Coffee Shops in Pasadena –
8. Me + Crêpe
Me + Crêpe is a Chinese restaurant in Pasadena serving jianbing, a typical breakfast street food from China similar to what we know as an American or French crepe. The Chinese crepe is a thin egg-based pancake cooked on a hot griddle and rolled with various fillings, from vegetables to meats.
While you can have these for breakfast, they also make for a quick lunch that will leave you more than satisfied. Choose your fillings or one of their savory combinations from their menu.
Me + Crêpe | 89 E Green St, Pasadena | Google Map It
9. Twohey's Restaurant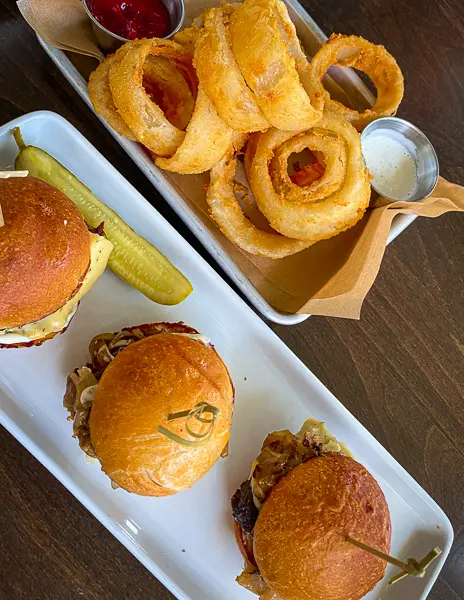 Twohey's in South Pasadena is a family-run establishment that has been part of San Gabriel Valley since 1943. The lunch menu is served every day from 11:00 am to 03:00 pm.
This modern diner-style restaurant has some delicious lunch items on its menu, such as salads, patty melts, burgers, and our favorite Heckels Prime Rib Dip.
This is a great spot for family lunch or to meet up with friends for casual but comforting lunch. And they have a full bar if you're ready for that mid-day cocktail.
If you have room, don't forget to have one of their epic sundaes from their soda fountain.
Twoheys Restaurant | 424 Fair Oaks Ave, South Pasadena | Google Map It
10. Republik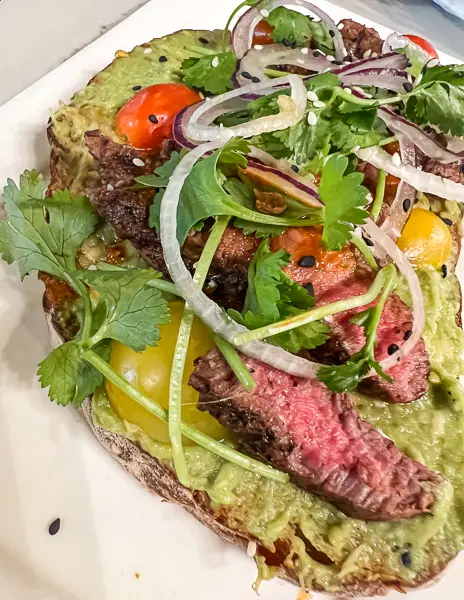 Republik Coffee has a fantastic weekday lunch menu from 7 am to 4 pm. The lunch items range from avocado toast to quiches, sandwiches, and flatbreads.
The avocado toast here is one of our favorites. The Asada toast is perfect for a quick and delicious lunch. While you're here, you can also grab one of their specialty coffees on your way back to the office.
Republik Coffee | 854 E Green St, Pasadena | Google Map It
11. Russell's
Russell's is a local Old Pasadena favorite serving lunch until 2 pm. While you can have breakfast here all day, they have some awesome burgers, sandwiches, and salads for lunchtime.
While this is a very busy restaurant in the mornings, it's easier to get in at lunch during the week. And if you want that glass of wine with lunch, they can accommodate you.
Russell's | 30 N Fair Oaks Ave, Pasadena | Google Map It
12. Chaaste Family Market
Chaaste Family Market is a Filippino Market in Pasadena with a hot buffet, cafeteria style, ready-to-go for a yummy lunch. They have all the Filippino favorite comfort foods for you to choose from. And it's the only Filippino spot in Pasadena (that we've found) that's been part of this community since 1987.
Try their lumpia, chicken adobo, lechon, sisig, chick curry, and other amazing foods. Do not leave without a turon! A Halo-Halo, a cold Filipino dessert made with crushed ice, is refreshing on a hot day.
The staff here is warm and helpful, making lunchtime even more enjoyable.
Chaaste Family Market | 296 Allen Ave #3, Pasadena | Google Map It
13. Mendocino Farms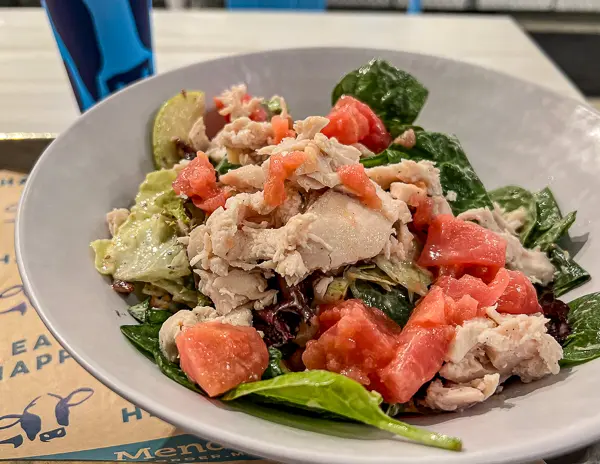 For hearty salads and sandwiches in Pasadena, Mendocino Farms never disappoints. While it is a local California franchise, it is a great lunch spot when you're looking for that big salad bowl full of healthy organic ingredients.
They have several featured salads, including a make-your-own salad bowl. Their sandwiches are also noteworthy, especially the Market Chicken Sandwich and the Harvest Veggie Sandwich.
The 'pink lady beets and goat' salad on their menu is a favorite.
Plenty of seating inside and outside Mendocino's.
Mendocino Farms | 238 S Lake Ave, Pasadena | Google Map It
14. Namaste Spiceland
Namaste Spiceland is an Indian and International grocery store preparing authentic vegetarian Indian dishes. This is not a restaurant, it's more like a hot food counter you can choose from to take to-go or eat at one of their tables inside the store.
This is a popular spot for lunch in Pasadena. Not only do they serve amazing Indian food, but their combo plates for less than $12 or less are hard to beat. While the combos all come with rice, raita, and chapati, order the "DO" special, as that one comes with a samosa and pakora.
Pair your lunch with a Mango Lassi to drink.
Namaste Spiceland | 270 N Hill Ave, Pasadena | Google Map It
15. Kaiba Japanese Ramen & Sushi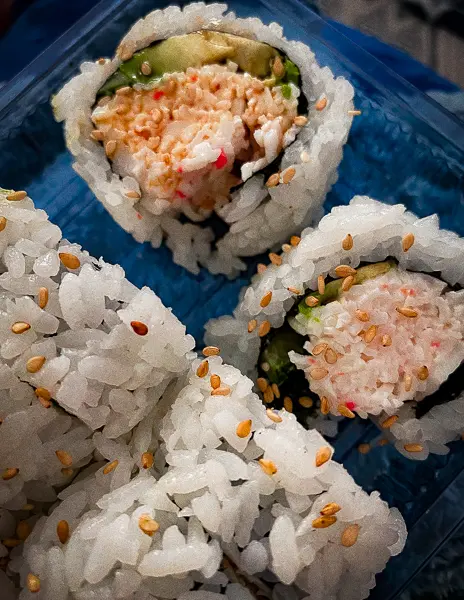 Kaiba has some great lunch specials for sushi lovers and non-sushi lovers. The lunch specials are served from 11:30 am to 4 pm and start at $14.
Their lunch offers consist of Tonkutsa Ramen, Spicy Ramen, or their Sizzling Teriyaki plates, you can order them on their own or, for a few extra bucks, make a combination with a California roll or spicy tuna roll.
The ramen and sushi here are fantastic for a fair price compared to other restaurants in town, and their servings are large. The restaurant is casual. Usually, there are no long waits, and the service is friendly and quick.
Kaiba Japanese Ramen | 1713 E Colorado Blvd, Pasadena | Google Map It
Don't forget to share the love on Pinterest: